New album out today, plus new video
This song is my maximum rhythm, I hope it finds your feet. It's called Dream Factories, it's about how music, our lives, our dreams - they're taken, remade and sold back to us. 

Watch it on Youtube: https://youtu.be/03GJRdyvEVA 
So, I can now nervously announce that the whole new 11-track album The Faintest Idea is live on streaming platforms now. Find it anywhere via this link: 

https://jongomm.lnk.to/TheFaintestIdea
You can buy The Faintest Idea now in 3 formats: 
CD in a beautiful illustrated digipack 
Double-vinyl LP in gatefold sleeve with an artwork etching on side D
Deluxe Edition - A gorgeous 12 inch hardback book with illustrations, hand-written lyrics and stories for every track, and a full guitar transcription of one instrumental track, plus THREE discs:
1) The album CD
2) An exclusive "Naked Artist Mix" CD of stripped-back mixes by Jon himself
3) An exclusive DVD with live acoustic performances in a medieval church, a 35 minute interview, and guitar technique demos, plus high-definition audio of the album.
I now also have T-shirts and T-shirt album bundles available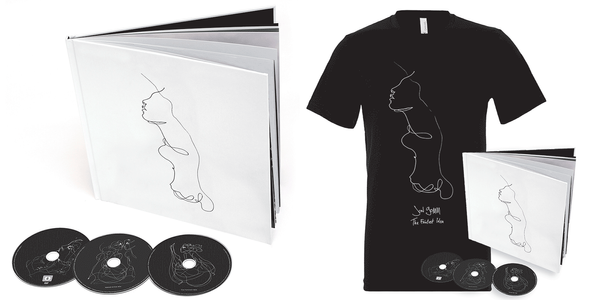 https://jongomm.com/new-album-the-faintest-idea 


Online launch gig
Things aren't looking great for real life gigs here, so I'm gonna stream the album launch gig live from my home studio, on Sunday November 15th, 8:15pm UK (12:15pm LA, 3:15pm NY, 9:15pm EU).
Tickets are Pay What You Want (including free) at https://jongomm.com/gig but if you pay £20 (approx $25) or more, I'll also send you a signed copy of the The Faintest Idea on CD, a signed artwork postcard, and 2 of my signature plectrums (with free shipping worldwide). If you'd like to treat yourself to one I will be very grateful. 🤍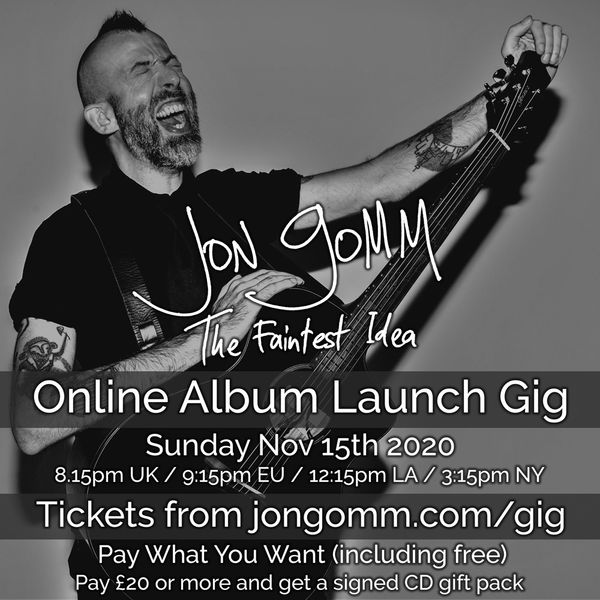 So whether I see you at the gig, or you listen to the album today, or you're saving yourself until your vinyl or CD arrives in the mail, THANK YOU for supporting new, original, independent music, and giving meaning to my work. Please feel good about yourself. 
jg x