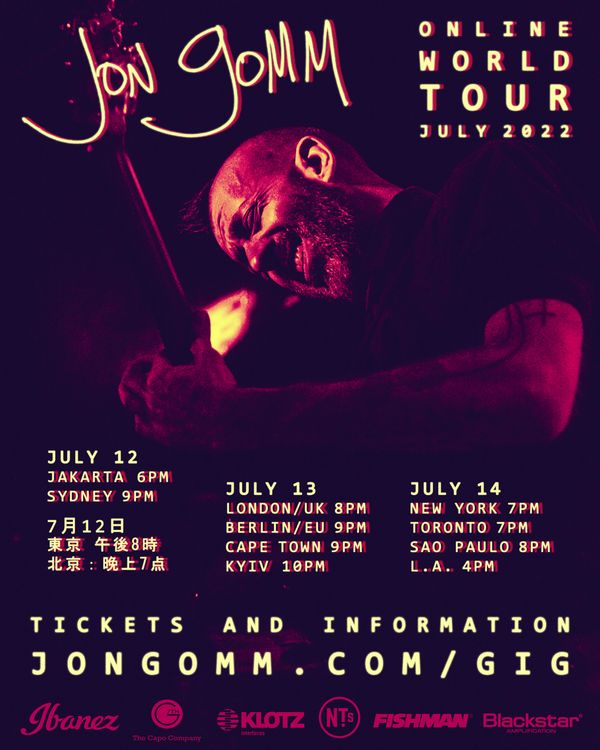 It's great to be back to performing, and I feel like my playing and sound are the best they've ever been. But I'm acutely aware that most people still can't get to see my shows, as I can still only travel as far as this unstable world and my unstable brain will let me right now. 

So I'm playing 3 online shows at different times of day to suit different time zones. And I've ostentatiously decided to call it an "Online World Tour" which is ridiculous, but f**k it. 

They'll be streamed live on my website from my studio, with HD sound. You'll need a ticket, but they're Pay What You Want (including free).
 
TUESDAY JULY 12, UTC🌐11:00 
ASIA / PACIFIC
Mumbai 16:30 
Jakarta 18:00 
Beijing 19:00
Tokyo 20:00 
Sydney 21:00
-
WEDNESDAY JUL 13, UTC🌐19:00
EUROPE / AFRICA
London 20:00 
Berlin 21:00 
Cape Town 21:00 
Kyiv 22:00
-
THURSDAY JUL 14, UTC🌐23:00
NORTH + SOUTH AMERICA
Pacific Time 16:00 
Mountain Time: 17:00 
Central Time 18:00
Eastern Time 19:00 
Rio De Janeiro 20:00
-
Send your song requests to me via my socials. See you there!