If you head over and comment on the video at youtube or facebook (and please share it while you're there), you could be one of 3 people who will each win this bundle of stuff: A signed Deluxe album/book, a G7th Newport Capo, a set of my signature Newtone strings, and a tuner, T-shirt and luggage tag from Fishman. 
CHECK YOU'RE STILL BREATHING
Nobody tells you before you have a newborn child that they sometimes stop breathing for a few seconds while they are asleep. You don't even realise you were listening to them sleep, until you notice the silence with a rising panic. You wait for the next inhale, and the wave of relief it brings. 
But soon inevitably you're captivated by the peaceful perfection of your sleeping child. Until you notice another silent stillness... Oh no, the breathing has stopped again. But this time - It's you. 
---

Get the guitar tab for Check You're Still Breathing at https://jongomm.com/guitar-tabs 

From my latest album The Faintest Idea, described by Steve Lukather (Toto) as "Maybe the best thing I've heard in years". Listen or buy vinyl, CD and Deluxe Edition book/DVD version at https://jongomm.lnk.to/TheFaintestIdea  

Get more info on the Ibanez JGM10 guitar at https://jongomm.com/guitar 
---
Meanwhile, I'm just getting back into practising as my voice is recovering. I'm trying really hard to be patient with myself. After all this time, the UK tour feels like a mirage in the desert. Please make it real with me, if you can be there.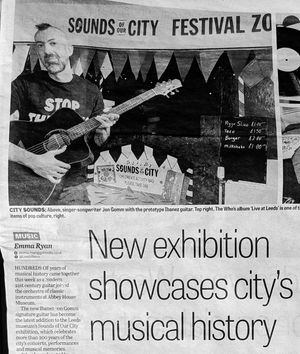 By the way, I had a nice experience recently when Leeds City Museum asked to acquire one of my new signature model guitars for their permanent collection. It's on display already in their Sounds Of Our City exhibition, alongside antique instruments and memorabilia from other Leeds musicians and bands through the ages. It feels like a huge honour for me, especially to feel so accepted as being kind of "officially adopted" by the city where I built my music career. 
More videos are coming soon: The next one is - for me - all about the beautiful synth soundscaping of producer Andy Sorenson and I love it a lot. It's nearly ready. You can sign up to my mailing list to be totally sure of not missing it, if you want. 
Thanks for reading / giving a f**k. 🤍