Blackstar Sonnet Amplifiers
I've tried so many "acoustic amps" over the years, and really struggled to work with any of them. They fall into two categories, both of which suck: The first are essentially modified electric guitar amp designs, which have nowhere near the frequency range needed for acoustic instruments, particularly in the bass. This guts your guitar tone anyway, but my low tuned strings and kick drum effects in particular were just non-existent. The second type are very hi-fi and sound OK until you push them even slightly, when they will suddenly "squash" the sound, causing sudden weird volume dips (if you're a nerd, then you'll know this is because they're using brutal compression to protect the speaker from the dynamic range of acoustic sources.)

So when Blackstar told me they were thinking about designing their first ever acoustic amp, I basically explained the problems, and persuaded them to let me actually help them develop it.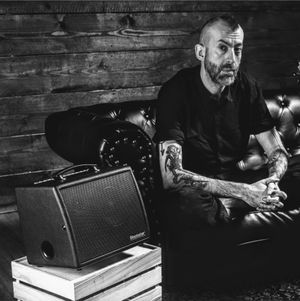 What they came up with is incredible, using intelligent super-subtle two-stage compression, and a super-modern ported speaker cabinet to release the "sub" bass frequencies. And the sound is so pure, uncoloured and has the full spectrum of my sound. It's really like having a little PA system in a small, light box. I love it. 

Blackstar amps are sold around the world, so just search them online to find a store in your location.